The summer transfer window is closed. Shut. Done. Finito. As dead as Sonny Corleone. So for the next four months you have to put up and shut up with whatever activity sparked your favo(u)rite team. We'll start with the record breakers and work our way down, and give ratings to each transfer according to the acquiring teams.
Here's the Awyee Guide to the Summer Footy Transfers:
1. Gareth Bale to Real Madrid  B-
Bale might as well be the anti-christ.  Gareth Kardashian's saga was longer than the Roots and made reading footy updates a misery. He was sold for an ungodly asking price and almost entirely financed the Spurs revamp.  If you're a Spurs fan, don't bich about Bale taking the opportunity of a lifetime with an insane weekly salary, reportedly 300,000 euros (right under $500,000). http://whatbaleearns.co.uk/  If you're a feeder club, you're a feeder club. But it's only temporary, and having your two best players sold for retarded fees is definitely the best of the given scenario. Bale isn't yours to own, but he was certainly yours to exploit. Be happy you raped Madrid's wallet and focus on your flush bank account. $100 million won't be offered again, so wise up and shut your trap, Spuds.
For Madrid, he's what's known as a marketing ploy. Barcelona have Messi and Neymar. Madrid had just Ronaldo. Wittle baby Wonaldo and nobody to play with.  Now Madrid will market the sh*t out of Bale and try to sell jerseys like hotcakes. They won't have a problem because the majority of madridistas outside Spain don't understand the true cost. Spain is in the sh*tter and Real Madrid is holding onto perceived wealth harder than tulips. Ticket prices will go nowhere but up, and Madrid will again finish second. Some say it's a move for the next Ronaldo, and he very well may be. Everything he does in someway looks Ronaldo-esque, whether it be his free kicks or flank runs. Hopefully he can learn from his Portuguese hero. But, considering Ronaldo is a bitterly emo bich, news of Bale's new salary will probably steer any mentoring far far away. Could be a slippery slope, unless Zidane headbutts some sense into Ronaldo. Consider how much of Madrid's future was changed if Bale doesn't pan out. You don't see banks putting all their ass pennies into one investment, so why would a football team do the same. Diversify your sh*t. Don't fall for gossipy hype and man the eff up.
For that I give Madrid a B-. You're floating right above a C, bich. I'm not calling mommy and daddy just yet. But come midterms, you better wise up.
2. Edison Cavani to Paris-Saint Germain  A
Cavani is a unique forward. His mouth can open wider than a can of beans. Sh*t he could probably swallow a million d*cks. But he doesn't. Why? Because he spends his time scoring goals.  If you thought Willow Smith whipped her hair back and forth, you should whip a gun into your face.  Cavani's flowing locks trail his head like gymnast's ribbon in a centrifuge. Does it matter than he transferred for 64 million Euros? Not really. PSG is the spoiled snobby French kid you always wanted to beat the sh*t out of.  Now he has the cash to pay a South American gangster to abduct your family.
In comparison to other major transfers this season, Cavani fits his new team pretty well.  Assuming Lavezzi can stop being a piece of sh*t, you can expect Cavani to be the final piece of PSG's stunning attack. PSG's Champions League games against Barcelona proved how strong PSG can be with a trigger man.  If When PSG destroys group C this year, you can expect The Baguettes to move on deep into the final stages.
3. Radamel Falcao to AS Monaco  B+
Falcao is a machine. In the yearly bloodbath Real Madrid and Barcelona leave on La Liga, Atletico Madrid was (and potentially still is) the posterboy for hope.  Atletico's 2012 season saw Falcao unleash a flurry of goals, pushing the team to finish third and win the Copa del Rey (or watch Real Madrid f*ck up the Copa del Rey).  Because Falcao looks like a hominid I'm going to call his transfer a migration to greener pastures. Not only did he land a cash package large enough to pay his investors, Atletico was able to avoid bankruptcy and land David Villa for replacement. Seems everyone's good so far.
Unfortunately AS Monaco has mismatched geriatric defense with a youthful attack. I can't imagine what this season will hold for them–Depends or Huggies.  Success or failure. So far they've been making their way through Ligue 1 without a hitch. Time will tell if Falcao's real age will be a factor in his success, and whether the FFA level the tax haven advantage AS Monaco has been exploiting. Only sourpusses say money can't buy success, but they're wrong and infertile. Let them wither and die. When it's 99% tax free, you get what you pay for.  Chelsea, PSG, Man City, etc. have landed immediate success–I'm sure that's what Monaco is betting on. Man Sh*tty does suck, though.
4. Neymar Jr to Barcelona  A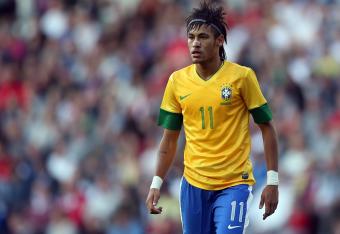 I previously wrote about how much I hate Barcelona fans–it hasn't changed. But the addition of Neymar does a good job of improving Barcelona's attack.  If anyone had a hype level similar to Bale in any of these summer transfers, it would most assuredly be Neymar.  For over a year Barca fans would mention Neymar as if he's already on the Barca squad, and that his success at the 2014 World Cup depended on Neymar moving to a more competitive league.  Until this moment, the majority of footy fans outside of South America only caught glimpses of his talent from sh*tty youtube edits blasting techno and overusing effects.  Now since he's played a few games at Camp Nou, we're able to see that Neymar does a great job in Barca's midfield attack.  Messi and Jr. link up very well and have shown all haters (including myself) that his talent can provide a new spark to the boring tiki-taka play Barca is famous for. That said, I can't wait for his ankle to shatter.  One of these days his twig leg is going to step the wrong way or get side swiped from a defender to bored to deal with his gimmicks. It's only a matter of time before his 57 million Euro transfer fee becomes a 57 million Euro write off on Barca's financial statements. Until that day happens I'll be glad to watch his attack, considering we're all guaranteed to see Barcelona through many rounds of CL footy.
5. Mario Gotze to Bayern Munich  B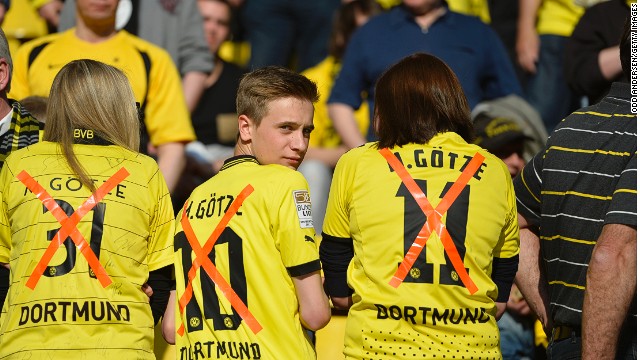 Gotze is a douche first and foremost. He Goatse'd all over his boyhood club, Borussia Dortmund–full on bean burrito, hot sauce, food poisoning, raw chicken skathouse. Many will mention his buyout clause. Yes Munich jumped at the opportunity to pay 37 million Euros for a youthful German international winger, and forced Dortmund to sell, but the announcement timing and press conferences showed how little respect Gotze had for Dortmund. He's a classless Aryan that fully deserved a harsh tackle (Thanks Ramires).
Now as much as I wish ill will on this little sh*t, I understand why Bayern acquired his services. Their new señor coach, Pep Guardiola is a supreme control freak, hell-bent on infecting Bayern's recently successful form with tiki-taka bullshit and false-9 formations.  Gotze, the former winger is set to take on the false-9 (aka midfield sitting fake forward) position to bring attacks through the defense on charge. He's capable of a lot of things, but I don't see Gotze becoming Messi.  That doesn't mean he won't do well at Bayern–he's surrounded by a rediculous team; Ribery, Robben, Schwein, Lahm, Thiago, Boateng, Dante, Muller. Let's just see if he finds a starting position, when all is said and done.
6. Mesut Ozil to Arsenal  A+
Ozil to Arsenal really buttered my bread. What a transfer. All summer Arsenal was being over backward and nobody would penetrate. Leave it to the last day for some steamy action to go down. After the Bale saga concluded Sunday, Madrid had 1 day to offload a midfielder for financing. Ancelotti is either a big dumbass or a puppet to Florentino Perez. I can't imagine the logic of putting a free flowing winger in a CM position with intent on feeding, so I will have to assume Perez ass-jammed this transfer right into Carlo's playbook.  Ancelotti had no choice but to get rid of the slower paced Ozil. With Arsenal begging to be robbed, Madrid sold Ozil for 42 million GBP.
Now whether this helps Arsenal can really fall either way. In regards to player health, Arsenal has been having a bad start to 2013/2014 campaign. Oxlade is dead, Podolski is dead. Koscielny had his face ripped open, and Arteta's been out for some time. If anyone else flops, you bes' believe they're going to have a hard time keeping up top 4 and maintaining decent CL football, especially when their "group of death" includes blood-hungry Dortmund and newly powerhoused Napoli. Adding Ozil wasn't the necessity–many at the end of last year's campaign were crying for Giroud's head on a platter and a second striker to pad their options. Giroud's magic will not continue forever, but I'll knock on wood for the Gunners. I love seeing a great comeback and Giroud looks to have his touch back in form.  Should Ozil look for through balls to the wing, there's no reason why he can't utilize Walcott's speed and touch. Send them right rather than left. That's all Ozil needs to repeat.
Ozil may look to be a desperate buy, but at this point, any buy is a good buy for Arsenal.  Their reputation of being stingy sh*theads in the transfer market kept them out of many good deals–hopefully this will make their intent known.  God only knows Chelsea will beat the sh*t out of them every derby. 4 REAL.